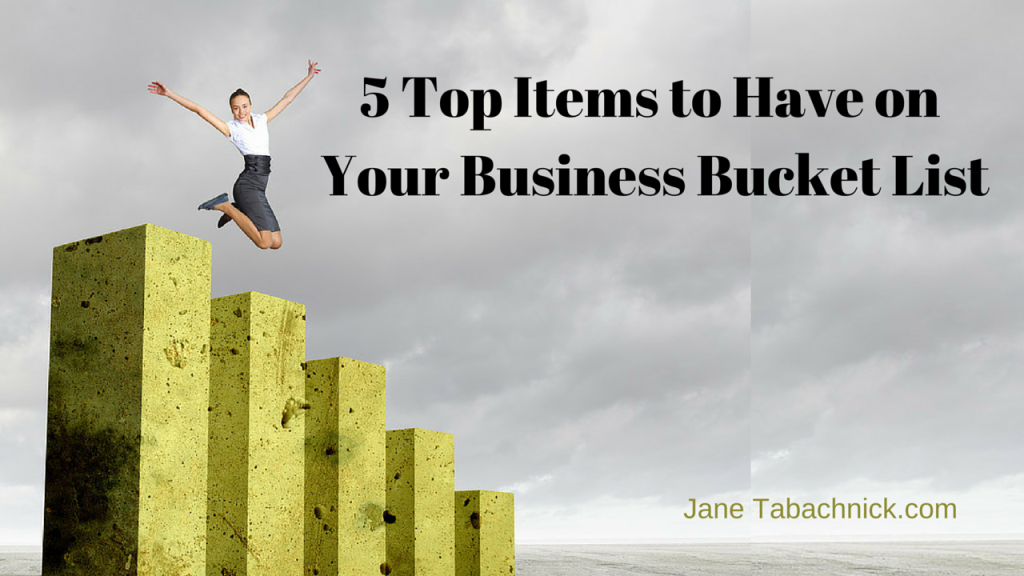 A successful and satisfying career, like a well-lived life, can benefit from a bucket list. Interviews with highly successful individuals consistently reveal that they set targets and goals and then plan their actions to move them closer to achieving them.
Your business bucket list is the perfect way to set major milestone goals for your career or entrepreneurial journey. As I began thinking about this topic, I heard "You Can't Take That Away From Me" start playing in my subterranean jukebox. While the song's lyrics aren't directly analogous to your business bucket list, the title is what brought it to mind for me, and one of the key reasons to create your own list.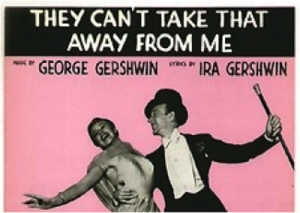 Any of the items on my recommended business bucket list, once accomplished, will pay you big dividends for the rest of your life. These are the kind of achievements that set you apart, open doors and unmistakably position you as a top expert in your field or niche, and provide acceleration to your career.
They also increase your pay scale and revenue significantly.
By establishing your instant credibility, as well as providing 3rd party credibility, there is more trust in you and your expertise. It's no longer 'what you say about you' that people are interested in. Think of it like trying to decide on which new restaurant, which new printer, or service provider to select; we now go and check out the online reviews and recommendations before making a decision. These bucket list items offer the equivalent of a 5 star review from a third party, providing a trust factor and predisposing others to you. They are more inclined to hiring you or buy from you, and they will be willing to pay higher fees for the privilege of working with you.
With all the noise and competition out there, it can be hard to stand out from the crowd. There are certain accomplishments that insure you are immediately noticed and respected. Whether you are seeking a job, to close a big deal, set yourself apart from the sea of competition get more visibility, get in front of your ideal audience more easily and close the deal, land your coveted job, get more speaking gigs… your bucket list achievements pre-sell others on you. They also inspire others to seek you out, rather than vice versa.
5 Bucket List Goals To Skyrocket Your Business:
Top Industry Award
Whether it's a Pulitzer Prize for literature, a Stevie Award, MacArthur Genius Grant, Making the Inc 500 list, or a more regional industry prize, being honored with one of these types of awards is priceless. In addition to the honor, it is recognition for your excellence and hard work often determined by an esteemed panel of judges and by your peers.
While the voting and selection may be out of your control, you can still proactively position yourself for awards. It goes without saying you need to do your best work. Build a list of the top awards in your industry along with the deadlines to apply; that way when you feel you have achieved sufficient professional accomplishment, you and your team will have the information on hand to begin the application process. Some awards are based on third party nominations, not applications. In this case consider asking a trusted colleague or client if they would consider nominating you.
Being honored offers third party credibility and recognition, along with incredible visibility – the organization giving out the awards typically initiates a publicity campaign that features you!

Media Darling
Getting featured in the media gives you increased visibility and lends credibility and authority; these days it also adds an additional trust factor. In what has been called the Trust or Reputation economy, media coverage, whether you are mentioned, quoted or featured provides third party credibility and the perception that the media is endorsing you.
Whether it's the NY Times, the Today Show or the Huffington Post, or a smaller regional media outlet, once featured, you are a lifetime media winner!
You can and should leverage the publicity you receive by showcasing it in both text and graphics. We are becoming more and more visually oriented and the media logos on your site or marketing materials grab immediate attention and act as a trust trigger, instantly associating you with the credibility and exalted status that is attributed to the recognized media outlet.
Bestselling Author
Many people want to write a book, yet they never manage to get around to it. Writing a book is a big accomplishment [only 8% of aspiring writers succeed] and will serve you well throughout your business life.
There is even greater respect and recognition that comes with being a bestselling author. Whether you are a business owner, a speaker, or a full-time author, being able to call yourself a bestseller dramatically increases your credibility and positions you at the very top of your field. It often leads to additional opportunities such as speaking invitations, guest professorships and consulting projects.
It is better to look ahead and prepare than to look back and regret – Jackie Joyner-Kersee
Keynote Talk
Being invited to speak at an event is always an honor. It can be an accomplishment, especially when you are selected to deliver the keynote at an event whose audience are your professional peers. The fact that you were the one selected to speak is one of the ultimate forms of professional recognition.
The pinnacle in recognition for a keynote talk is one that gets posted online and goes viral. It could be a Ted Talk, which on its own carries great cache, a university graduation speech or another top event. The beauty of your talk going viral, in addition to the obvious one of increased visibility, is that this usually indicates that your talk has resonated with people on a deep level, one that typically transcends industries or country. This extends your recognition and opens up new opportunities across disciplines, around the globe.
I hated every minute of training, but I said, 'Don't quit. Suffer now and live the rest of your life as a champ' – Muhammad Ali
Personal Physical Challenge
'All work and no play makes Jack a dull boy', states the nursery rhyme. While we've been conditioned to keep a separation of church and state when it comes to business and personal matters, there are a few accomplishments that shouldcrossover and be highlighted. One of them is completing an arduous physical challenge, as it is a noteworthy achievement, and as such should be showcased.
Businesses and entrepreneurs recognize the mind body connection. There is great respect for someone who undertakes the kind of herculean training and endurance test that running a marathon, completing a triathlon, climbing Mt. Everest and hiking the entire Appalachian Trail encompasses.
A successful and major physical challenge demonstrates to your business prospect or prospective employer that you plan your training, set goals, and then meet them despite how tough the going gets. It shows that you have the mental toughness and discipline to achieve what most of us mortals will only dream of, yet never even undertake. It inspires confidence that you will bring this excellence and determination to whatever you do whether it's personal or in business.
There are no traffic jams along the extra mile- Roger Staubach
Whether you are a solo-preneur, a coach, a business owner or an employee, a business bucket list will help you achieve your goals faster and propel your career forward at lightening speed and with more ease.
These bucket list goals are ones that will pre-sell you to strangers and create a favorable instant impression when used on your resume, as part of your professional bio, when you are introduced as a guest speaker, on your website, in your press kit, in the bio section of client proposals …
Ready to check items off your own bucket list?
I am available to help you strategize your own business bucket list. Ask me about our accelerated Media Darling and Bestselling Author programs.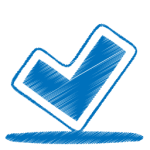 My own business bucket list is still evolving. So far…
Top Industry Award [FastCompany – Top 100 People Online, NYWA – Galaxy Award]
Media Darling: Featured in national media [there is always room for more]

Bestselling Author: my recent book "Business Leadership Blueprints"
Physical Challenge: Completed the Dublin Marathon
This article first appeared on Linkedin Pulse