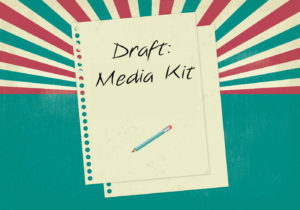 As an author, one of your goals is to have your books read by as many people as possible. To achieve this, you need to get as much visibility as possible. An author media kit will be a key component in assuring you succeed; whether you use publicity, public speaking or both of these strategies to get in front of your potential readers.

The Professional Standard
A media kit, is also called a press kit, or in its short form, a one sheet. By any name, a media kit is the standard professional tool used by authors, speakers and experts to present themselves to the media and event planners. Whether you are traditionally published or self published, you will be expected to have a media kit. It is not unusual to have a few versions of your media kit, from a one sheet to a full featured, detailed, multi-page media kit.
What exactly is a Media Kit
A media kit is like a folder of information about you and your book, containing the who, what, where and when. It should include a brief author bio, book blurb or synopsis, review or media mentions and contact information. It should also contain your book cover image, as well as an author head shot. The longer version of your media kit can also include a sample chapter, multiple reviews and longer versions of the author biography.
Just the Cliff Notes Please
In our busy world where information overload abounds, you don't have much time to grab someone's attention. People no longer read, but scan documents looking at headlines, bullet points and images. Busy journalists get bombarded with pitches and don't have the time to read long documents. A concise, elegant and well crafted media kit is like Cliff Notes version of you and your book, providing just the right information to intrigue the reader, as well as make it easy for them to find out more about you online, and contact you.
How do I use my media kit?
Host your media kit on your website. You want to make sure it's easy to find; an ideal location for it is in your online media room where you host your news and media mentions. You can also post your media kit on your about page; that way, it will also be viewed by your prospective readers who will want to learn more about you and decide whether they want to buy your book. When you send a pitch to a journalist or a book reviewer, link to the online version of your media kit, as many of them don't accept attachments. Offering a media kit to those you are pitching for publicity or speaking, demonstrates you are a true professional.
A Media Kit Is A Living Document
Media kits should be updated routinely so as to reflect the latest news, reviews and information about you and your book. When you get a great book review or you get media coverage, you can add that to your media kit to showcase it, and keep it up to date.
A media kit is a professional tool that makes it easy for someone else to talk about you, write about you, and invite you to speak at an event, easily and efficiently. In some cases, they may not even feel the need to speak with you, as your media kit has done its job speaking on your behalf 24/7.
To get started creating your author press kit, check out our Easy Author One Sheets
This  is excepted from an interview I did at the 9th Annual Book Marketing Conference Online: Reach More Readers.  Listen to the full interview here