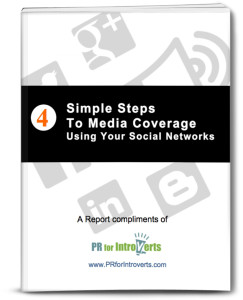 PR for Introverts, an new site offering Public Relations mentoring and DIY Products, today announced it is giving away a free report on its website entitled "4 Simple Steps To Media Coverage Using Your Existing Social Networks". It is available for download here
Jane Tabachnick, publicity mentor and creator of PR for Introverts, said the company decided to release the report to help entrepreneurs, authors and coaches get more visibility and publicity, as well as to help educate them on how to do their own publicity using skills and tools they already have.
"Chances are there are journalists in your existing social networks. You just need to know how to connect with them the right way, so you can get the visibility you are seeking," said Tabachnick.
"Journalists are very social according to the recent report Indiana University School of Journalism, " continued Ms. Tabachnick. "It's never been easier to connect with a journalist, one who can write about you and your company and give you the media coverage and visibility you are seeking. And this may surprise you to hear, but you probably already know exactly how to connect with a journalist using social media."
Some of the topics included in the Report include:
4 steps to effectively pitch a journalist
The right length for a pitch
When to pitch a journalist
What to include in a pitch
The report also includes a few cautions including:
What not to do when pitching a journalist on social media
How to pitch a journalist using social media so as not to piss them off or get blacklisted
The one thing to never ask a journalist to do
To download the free report, go to http://janetabachnick.com/report-2/
Founded in 2013, PR for Introverts has helped many businesses with Public Relations mentoring and DIY Products. The company's mission statement is helping entrepreneurs get the visibility they need to attract a steady stream of their ideal clients. Founded by Jane Tabachnick, managing director of Jane Tabachnick and Co., an award winning digital Public Relations and marketing strategy firm, they offer over 15 years of experience working with savvy entrepreneurs and business owners to help them create greater visibility and buzz. They also create DIY tools for publicity such as Instant Pressroom and Authority Bar.
To learn more about PR for Introverts or visit them online at http://www.prforintroverts.com or www.janetabachnick.com