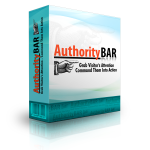 Authority Bar, a new publicity tool makes it easy for anyone to put their media mentions front and center on their website, without any technical knowledge. By adding an attention grabbing strip to the top of any web page, Authority Bar captures visitors attention within those critical first few seconds after they land on a website. Featuring the recognizable media logos where one has gotten mentions, it adds instant credibility and trust.
Today consumers are more mistrusting of advertisers and companies than ever before. They seek third party credibility before they do business with a company. Think about this, when was the last time someone made a purchase without checking online reviews first? Consumers do trust the media, viewing them like a recommendation or online review. In fact, according to the 2013 Nielsen Trust in Advertising Report, earned media such as editorial content in newspapers places just behind recommendations from friends and family, and online reviews.
Its been said that people want to do business with those they know, like and trust, and Authority Bar helps create that instantly by transferring the authority of the media companies whose logos are displayed in the bar. It can also be used to display company logos, which also lend instant credibility. Any potential customer who sees that one has credible and recognizable clients, will feel confident working with – reasoning if a company's work is good enough for Nike, it's good enough for their company.
"Too often companies get great media coverage, and they don't highlight it, losing out on opportunities to leverage the very publicity they probably worked hard to get. I created Authority Bar to make it easy for anyone to showcase their media coverage and have it keep working for them," stated digital PR and content strategist Jane Tabachnick.
Authority Bar is a word press notification bar plug-in. It's unique in that it allows people to upload images or logos to the bar, as well as resize or crop them from within the WordPress dashboard. It's fully customizable to match ones website branding and style; it's also responsive so it will display well on web browsers and mobile devices. It comes in 3 licenses – personal, multi site and developer license, with prices starting at $37. For more information visit http://janetabachnick.com/pr-store/