Ever get a $7000 message? My client did, and this is just one example of how to profit from your book.
I was at a training with my client Mai. The same workshop where I ate fire! Mai, called me over and was clearly so excited she couldn't contain herself.
I couldn't wait to see what the excitement was about.
Look at this message I just got from a prospect. It's all because of the book. Oh my gosh! Thank you Jane.
Note: Mai worked with me to write and publish her book The Divorced Mom's Guide to Dating. We got the book written and published [to bestseller status] in about 90 days.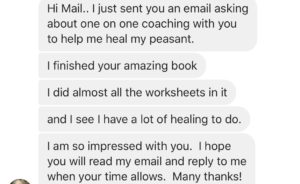 The message, which you can see in the image to the left, was from a reader, who was so excited and ready to sign up for coaching with Mai after reading her book that she emailed her and then sent her this message on Facebook to make sure Mai saw it as soon as possible.
How Mai's book created a ready to buy $7000 coaching client
People buy from those that they know, like and trust. People can get a sense of you and your work from your book, if it's written and set up correctly. What we did in Mai's case was:
Tell her story, so readers connected with her instantly
Share client stories – so readers could relate to 'people just like them', who were in 'situations just like them' and who got 'the outcomes they are seeking'
Give people a taste of her methodology/coaching program in the book
Include worksheets so that readers could start to do the work/ begin to experience results from Mai's work
Included a beautiful invite to Mai's bi-annual live event.
Have you ever tried to learn something from a book or program on your own? What was the outcome?
As is often the case, people find that they are only able to get so far via a book or self-paced coaching or learning program, and then realize they need additional, more personalize support to reach their goals. That was the case with Mai's reader. She'd gone as far as she could on her own, and she already saw Mai as the answer to a problem she was desperate to solve. She signed up for a $7000 coaching program with Mai.
Imagine getting a text like this! If you are like me, and selling is not something you like to do….having clients lined up anxious to sign up with you is pretty attractive.  As a salesperson friend of mine joked, when I showed them the message Mai received, the only thing left to ask is Visa or Mastercard.
Ready to package your expertise and method into a book, and attract ready to buy readers? Let's talk.
Related Posts:
5 Ways You Should Be Using Your Nonfiction Book to Make Money
How a Business Coach Landed Clients With His Book