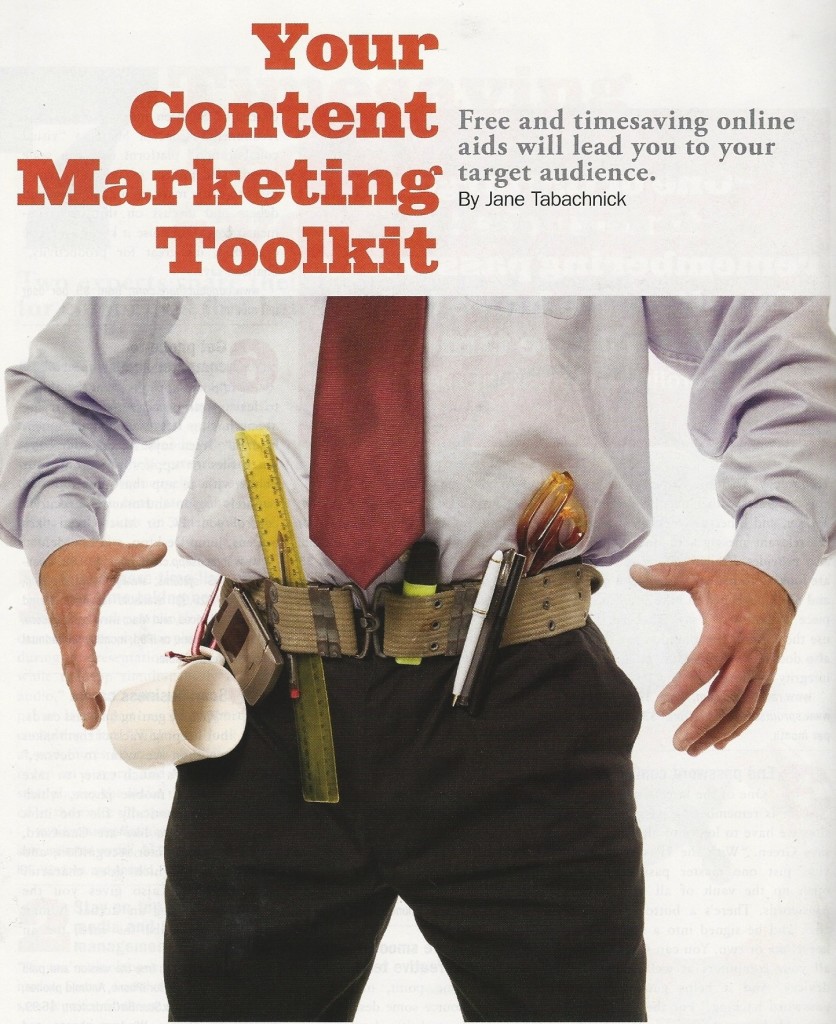 Content marketing—the strategy of creating and distributing content to a targeted audience—is a much talked about topic. It can be very effective for your business because it provides valuable information targeted to your prospects' and customers' interests and needs.
It engages without including a direct marketing message or selling, thereby positioning the company as a thought leader. But if you're worried that this is just one more project you don't have time for, fear not. There are some great, free tools to help you succeed at content marketing.
Of course, you'll first need to create a strategy. Define your voice as well as your goals. Will you be creating original content, curating other people's content, aggregating content, or some mix of the three? Are you looking to attract new customers, engage deeper and sell more to existing customers, or perhaps enter an entirely new market? Once you have all of the above established, it's time to turn to these readily accessible tools to get the most out of your content. Here is our Content Marketing Toolkit for Small Business – originally printed in the NY Enterprise Report.
Editorial Calendar
Creating this will help you meet your strategic goals and manage your content marketing initiatives. Most of the work here is on the conceptual side, not in the implementation. A simple Excel spreadsheet, online calendar, or plug-in will make it easy to keep a schedule. If you have a content team, then a Google Docs or Google Calendar can allow multi-user access.
EDITORIAL CALENDAR PLUGIN: If your website uses WordPress, this plugin gives you an overview of when your content is scheduled to post. www.wordpress.org/extend/plugins/editorial-calendar/
Keyword Research
If you identify and use the correct keywords, your content is more likely to show up online where your audience is spending time, or searching on the topic. Tools to help you with this include:
GOOGLE KEYWORD TOOL:
Gives you related terms, how competitive the term is, and how many times the term is searched for in a month. Results are more comprehensive if you are signed into your Google account. https://adwords.google.com/KeywordPlanner
GOOGLE AUTO-COMPLETE/SUGGESTION:
As you type in the search box on Google, the auto-complete offers searches that are similar to yours based on searches others are doing related to your term.
WIKIPEDIA:
This online encyclopedia's listings offer related terms and links on a specific topic, which can provide additional keyword suggestions. www.wikipedia.com
Content Aggregators
Aggregators gather and deliver all the content related to your topic or keyword inputs, from whatever data feeds they use as sources, and compile it in one place.
ALLTOP:
All the top stories and top headlines on popular topics from around the web. www.alltop.com
SCOOPIT:
Aggregator of info on a topic or keyword. It crawls the web for you and aggregates content around a the terms you input. It then allows you to select the best content and easily publish in a magazine format. www.scoop.it
If you identify and use the correct keywords, your content is more likely to show up online where your audience is spending time.
What's Trending
A word, phrase, or topic is trending if it is mentioned online and on social networks multiple times. Trending topics become popular either through a concerted effort by users or because of an event that prompts people to talk about one specific topic. Mentioning what's trending in your own marketing will potentially give you more exposure, but make sure it's relevant to what you're selling. For example, a new product release in your industry is a great opportunity to create content and capture some of the volume of social mentions and searches on the trending topic.
Consider writing a product review, a piece on what this new product means for the industry, or a positive personal anecdote related to the product or its creators. It is typically best to steer clear of political or gossipy trends, unless you are in that niche, or can find a way to create related content that won't be offensive to your audience and can be tied back to your company or product in a way that makes sense.
WHAT'S TRENDING:
What's hot in the news, YouTube, and on Twitter. www.whatstrending.com
GOOGLE TRENDS:
Identifies the hottest searches on the internet. www.google.com/trends
Monitoring
This is a recommended strategy to find mentions of your brand, your name, a product name, and news about a competitor in the press and online. You can also use it to find content on your keywords.
GOOGLE ALERTS:
Monitor the web for interesting new content, delivered to your inbox daily, based on your queries (by keyword or topic). www.google.com/alerts
TOPSY:
Real-time search for the social web. Searches content published on Twitter and the web, sorted by relevance or date, and sends to you daily via emails. www.topsy.com
HOOTSUITE:
This social media dashboard monitors social media presence and mentions, and also allows you write and schedule posts that will be dispatched to multiple social media platforms. www.hootsuite.com
SUMALL:
The only reporting tool that can visualize your Twitter, Facebook, Instagram, and YouTube accounts along with any other service you use. Know which of your tweets, posts, photos, or videos get the most engagement in seconds https://sumall.com/20ft
Clipping
Clipping is a great way to collect content that is of interest for later use. This is where an editorial calendar comes in handy; when you know in advance what topics you are going to be creating content about, as well as when, you naturally start to gather background info when you find it. Here are some clipping tools to help you with the process:
EVERNOTE:
Multi-platform note-taking application and bookmarking app. www.evernote.com
PINTEREST:
Online bulletin board for collecting, organizing, and displaying information and images. www.pinterest.com
DIIGO:
bookmarking, research, and knowledge-sharing tool with multi-user capabilities. www.diigo.com
Content Suggestion Tools
Content suggestion tools are great aids while you are in the midst of blogging or creating content online. They will suggest related articles, videos, and keywords based on what you are in the midst of typing.
ZEMANTA:
Suggests images, links, tags, and related articles while you write your blog post, and promotes your content. Also available as a browser add-on. www.zemanta.com
REVERB FOR CONTENT:
Makes your content even more relevant and interesting. Offers all the features of Zemanta as well as a built-in dictionary and thesaurus. Add text or thumbnail images. www.wordpress.org/extend/plugins/related-content-by-wordnik/
Schedulers
Streamlining the content marketing process is a must for busy business owners and marketers. Scheduling tools vary from a simple one like LaterBro for managing one brand, to something more robust for managing multiple brands and social profiles, like HootSuite. Here are a few tools that allow you to schedule content in advance.
LATERBRO:
Schedules Facebook and Twitter updates. www.laterbro.com
TWEETDECK:
Schedules tweets and posts and connects you with your contacts across Twitter, Facebook, MySpace. www.tweetdeck.com
SOCIAL TOMORROW:
Facebook and Twitter posts. www.socialtomorrow.com
HOOTSUITE:
Helps you monitor and manage multiple accounts and schedule posts on Twitter, Facebook, LinkedIn, Foursquare, Ping.fm, and WordPress profiles. www.hootsuite.com.
PLEASE NOTE: You may want to watch this video I created on using Google Alerts for Content & PR Monitoring http://youtu.be/9dD4JxtbT9Q
Related Article: Why PR Should Be Part of Your Content Marketing Strategy
Have a favorite Content Marketing tool? We'd love to hear about it. Post it in the comments below!