When I speak to prospective authors about the book they want to write, the conversation often turns to what they can expect when it comes to a return on their investment. As I work primarily with non fiction authors, I encourage them to look at the profits they will get from the doors their book will open and the opportunities it will bring, then on the actual dollars from the sale of their books in retail and online stores. One business coach has landed clients with his book, increased his branding and visibility and his bottom line, as you will see in the case study below; this result can easily be achieved by you too.
Part of the work I do is to strategize with clients about how to best leverage their book to grow their brand and their bottom line. It's essential that as an author, you leverage your published book and make sure you are maximizing visibility for your book and encouraging opportunities.
A great example of how to do this, is from my client, business and money mindset coach Wei Houng. He is the co-author of the book, "Breakthrough Leadership – Conversations With Innovative Leaders."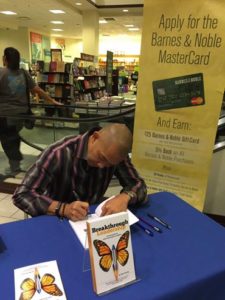 Wei is an active business networker, and took his book to all his events. This became an easy conversation starter and instant expert positioning for him.
According to Wei, a few of the people he networks with regularly became interested in knowing more about working with him, once they saw the book. This lead to a new client from his existing network, in the first month the book was out.
The branding & positioning component from becoming a published author is priceless – Wei Houng
Click To Tweet
"So the book itself has received really good feedback and has been a great marketing and positioning piece. Since launch, I have personally sold about 200 copies as a way to monetize my speaking opportunities. This alone resulted in $2k in revenue.
As a result of those speaking engagements, countless leads were created which, to date, have resulted in thousands of dollars in new business…with, I'm sure, more to come. When all is said and done, I suspect, branding aside, the book will have been responsible for helping me generate 5 figures worth of new revenue in my business. And, the branding and positioning component is priceless.
So, thanks! Looking forward to experiencing more of the ripple effects!" – Wei Houng, Founder The 6 Figure Academy, Co-Author Breakthrough Leadership
Highlights of how Wei leveraged his book to add an additional 10k to his bottom line in the first few months of publishing his book:
Bring the book to every networking event he attends. It opens conversations and positions you in a new enhanced and elevated way as an authority, even with people who have known you for a while.
A Book Landing Page. This provides an online destination to send potential readers, as well as to build his email list.
Public Speaking – Wei enjoys public speaking, and uses the opportunity to engage with prospective readers /clients. He always mentions the book in his talk and has books available for sale. Wei always includes a call to action, which in his case, is an invitation to the audience to sign up for a complimentary strategy session. At a recent event, he had 30% of the audience sign up for strategy sessions [a nice increase from speaking gigs given before he was an author]
Publicity. Wei has used a simple PR strategy [our Author Visibility Builder system] to get podcast and radio interviews, as well as mentions on ABC, CBS, NBC. This helps him attract prospects from outside his own network. He always uses a call to action in his interviews, which also leads to book sales, inquiries, strategy sessions and ultimately clients.
Social Media. Wei uses social media regularly. He offers valuable tips via postings and Facebook Live videos, which help give a taste of who he is and the value he brings. He regularly mentions his book as where to purchase it. He also has been actively promoting his co-authors which helps put him in front of their networks as well.
As a business coach, becoming a published author can easily lead to landed clients and profits with your book.  The key is to have a plan and a strategy to maximize your book and leverage opportunities. You can start leveraging your own book to land clients, by signing up for my webinar on how to use publicity to land clients.
Webinar:


Speaking in Soundbites: How Nonfiction Authors Turn Readers Into Clients Using Publicity Register here